Description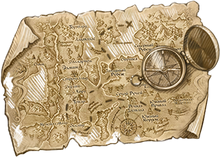 Welcome to the unofficial LuckCatchers English wiki.
A steam-punk social-economic sandbox MMORPG focused around airships and airballoons. This is a world of steam, valor and magic, full of risky adventures, dragons, pirates and profitable calculations. Players will have to chose how to progress between trade, economic wars and hard decisions.
The game is out in Early Access on Steam now! Get it here.
Note: This wiki is primarily for English language players, but all are welcome. A majority of information contained in this wiki is borrowed directly from luckcatchers.ru, and translated with Google Translate. The long term goal is to update articles to more accurate English, but for now errors are expected. All game assets, images, and information are the property of DiP Online, and all ownership rights belong to them.
You can access a live wiki chat here.
FAQ
World Map
Settlements
Ships And Strekolets
Ship Catalogue
Items
Skills
Latest activity